Rewiring a house is simply changing the electrical connections and wirings previously done in the house to a new setting. Most people at some point in time decide to have a change of their electrical wiring and connections. They either do this for safety reasons or just to add a new fixture to the previous connections and wiring to give it a new and better look.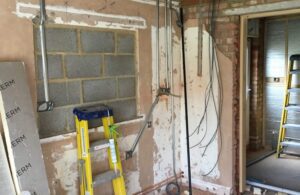 When Is Rewiring A Property Necessary?
Rewiring could be done for different reasons. Old wiring doesn't necessarily mean you need a rewiring on your property; however, you should get an experienced electrician to check your wiring to know whether or not it needs to be rewired. Your property needs rewiring if:
There is a regular blowing of fuses, smelling, burning, and sparking of electrical wire. It is a sign that the electrical wiring is old and faulty, and rewiring is necessary to avoid electrical shock and house fire.
You are renting or purchasing an old property. The electrical wirings need to be checked before purchasing. Estimates on cost for rewiring should be done by your electrician if there's a need for an update to know the cost to offer when making your payment.
You're planning to do a major renovation on your property, you will likely need to rewire all or part of your property.
Your property uses power from an extended cable, or you are using aluminum wiring instead of copper.
How Often Should A House Be Rewired?
Rewiring can last up to 30 to 40 years or more. Breakdown of insulations on the cables will determine when you need to rewire your property. If your property still uses the original wiring for more than 40 years or more and hasn't been changed, you can get your electrician to run a check on your wiring to see if it needs to be rewired, as it is likely to be updated to meet modern standards.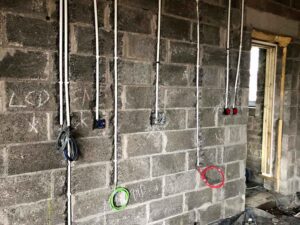 House Rewiring Cost Calculator
House rewire cost varies depending on the size of your home, and what you want to get done – changing or adding new electrical panels, sockets, and other fixtures. Rewiring could be calculated by meter square or per point. The average cost per m2 ranges from £25-30 and up to £30-40 for heavy-duty rewiring. However, most electricians estimate cost according to time, materials, or complexity of the work. You might likely spend up to £60 per hour for the installation of new fixtures.
So this is best done when changing old wiring to save cost. However, if you're doing a full rewiring, it will require a change in old electrical wiring and an upgrade of the circuit breaker to meet the latest requirements. This might cost up to £600 for a 100amp electrical panel and £800 to £1500 for a 200amp. Note that a typical labor cost for rewiring defers from state and city, and the estimations used here are the mean industry price and is subject to your project kind.
Benefits Of Rewiring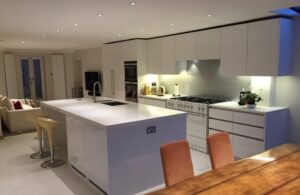 Rewiring is another good way to improve electrical safety; this should be your number one priority amongst other advantages which include:
The opportunity for you to add more fixtures to your installations. You might want to add more switches, sockets, plugs, or even change your old fuse box to a modern one. Changing old wiring is an opportunity to achieve those needs.
Adding value to your property. Changing old electrical systems – old wiring to new light fitting is one good way to increase the value of your property.
Reducing power loss and preventing appliances from malfunctioning.
Another benefit of rewiring is that it keeps your property in line with the latest wiring regulations.
What Electrical Work Can I Do Myself?
Electricity is very dangerous and should be carefully handled. Most of us forget its danger when turning on light switches or when trying to charge our phones. We have become so used to this day-to-day safe electricity that we feel we can handle electrical work without the help of a qualified electrician.
However, if you have electrical work you need to fix, be sure that it is a minor task that you can handle otherwise, contact your electrician. Check the list below for minor electrical works you can do yourself:
Repairing and replacement of faulty plug socket and light switches.
Changing of light bulbs or wiring lights on house lighting circuits.
Adding extra sockets to places where you need them by an extension lead.
 Change fuse on an extension lead, any other portable appliances, or a fused spur.
Before Your Rewiring Work Starts
Rewiring a property is complex and expensive especially rewiring a house built before 1980 which uses old panels and old cables. In this case, everything needs to be changed and updated to meet modern standards. Planning is very important. So, here are things you should know and do before your rewiring work starts:
Explain your reasons for the rewiring to your electrician; this will help your electrician know the thing you need to provide before the work starts.
Know where you want your rewiring done. If you need to move some switches or sockets, to a different spot you should arrange where you want them to be moved, also agree to a new lighting position on house lighting wiring.
Once you know why and where you need rewiring done, you can now go-ahead to prepare your apartment for the electrical work. Wires run across walls, ceilings, and floors on prescribed zones, so take off things that need to be moved- rugs, chairs, carpets, etc.
Need to agree to new lighting and switches position on house lighting wiring.
Electricity In Wet Areas (special locations)
There is a simple rule that says, water and electricity are potentially dangerous (very deadly) combinations. Many appliances can become electrical hazards and can cause electrocution once they come in contact with water. To protect all power and light circuits, and reduce the risk of electrocution, it is mandatory to install two RCD (safety switches) in your apartment.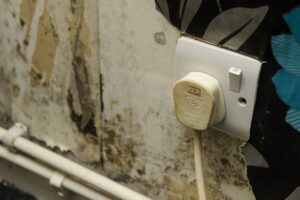 Electricity in the Bathroom
Avoid using wet hands to touch any electrical appliances or switches.
Electrical appliances in the bathroom must be protected using RCDs not more than 30mA
Use the pull-cord type of light switch or locate it outside your bathroom wall.
Use extra-low voltage safety fittings and avoid power sockets only shaving sockets allowed.
Avoid leaving your appliances in places where they can fall into bath or washing basins.
Electricity in the laundry
Do not touch switches or sockets with wet hands.
Ensure you put on footwear made of rubber or plastic soles before operating the washing machine.
Do not leave water spilled on the floor.
Wiring Regulations (18th Edition)
Every homeowner or electrician should ensure that their electrical work complies with the latest UK wiring regulations. In July 2018, IET issued The 18th Edition New Wiring Regulation which is also known as BS7671 (British Standard Requirement). The IET Wiring Regulations is the national standard in the UK for safe electrical installation in domestic, commercial, and industrial buildings, and also for special locations like Marine and Medical locations.
The current version of the electrical regulation UK came into effect from 1st January 2019 and the first amendment to the 18th edition was published in February 2020 with section 722 (Electrical Vehicle Charging Installation) as the only change. Generally, the standard applies to circuits of low voltage range which is between 50-1000V for AC and 125-1500V for DC, and circuits of extra-low voltage which is between 0-50V for AC and 0-125 for DC. In the UK the frequencies covered for homes, offices, and commerce are 50Hz, 60Hz, and 400Hz.
How To Extend Electric Cables?
To perform the extension task you have to get your tools ready. You'll need a screwdriver, electrician plier, strip connector, electric cables, crimper plugs, and electrical crimper. The extension involves two methods:
Method 1: Using a crimper connector
First, disconnect the electrical supply from the grid. Unsheathe the cable you want to lengthen at 1cm, and then fasten the exposed cable to the connector then crimp with the correct connector size. After this has been done, stick insulation tape around or any other mechanical protection. With the cable clips fix the extended cable and to the surface, and you're done.
Method 2: Without the use of a crimper connector
In this method, we use the same steps as used in the first method. But there's a slight difference. After unsheathing your cables, twist the cable ends using the electrician plier, and then weld using the soldering iron.
How To Wire A Shower Consumer Unit Diagram?
A new electric shower installation requires a power supply being run in 10mm cable from the consumer unit through a switch close to the shower. Fixing a consumer unit of a shower can be very expensive. It is cheaper to connect RCD if you have a split-way consumer unit but more expensive if you have a normal consumer. For modern consumer units, you can fit RCBO in one unit.
A circuit for the shower must have a double pole isolator switch, which should be the right amperage for the shower load. The neutral and live wires should be joined to the connector block, and the earth wire should be unsheathed with green and yellow sleeving. This wire is fastened with a nut to the earth terminal and then tightens the cord grip. Wiring finally depends on the type of consumer unit.
How To Hide Plug Sockets And Wires?
There are several ways to hide your plugs and sockets and keep them out of sight.
How to hide plug sockets?
You can hide plug sockets behind a framed pictures.
Behind large houseplants or flower vases.
Furniture built with open-backed cabinets.
How to hide the wire?
Wires can be hidden behind books.
Paint wires to match the color of the wall.
Use hooks to hide wires away.
Electrical Regulations For Cables Behind Plasterboard
Running cables behind plasterboards could be dangerous, but this will depend on how the cables are connected. There are national codes and cables in walls regulations to follow if you want to run your cables behind plasterboard:
Cables must be at least 50mm deep from the furnished surface. Alternatively, if cables are running within 150mm from the top or corner of a wall, they may be closer to the surface.
Cables passing through ceiling support must be 50mm from the top or bottom of the support.
For cables running behind a closed surface of either a wall or ceiling, protection against mechanical damage to cables from fixing should follow the requirement described for burying electrical cables in walls and ceiling.
Checking Earth Bonding
Checking your earth bonding is very important especially when you have made an addition or changes to your electrical installation. Earth bonding needs to be checked to ensure safety from electric shock and that the earthing arrangement is up to the required standard.
How Long Does It Take To Rewire A House?
Rewiring a full house can take up to 3 to 10 days, depending on the size of your property, the complexity of the project, and how old your property is. Older properties can take up to a week to rewire while a complex project takes longer.
A Reputation You Can Count On
Explore Some of Our Testimonials!
Here are a few testimonials and reviews from our customers - we're sure you will feel the same when we work with you.
"
House Electricals
I am impressed with Ihor. Honest, dedicated and professional guy. I confidently recommend Ihor and his crew to everybody. "
Install new fixed outlets for Oven and Hob
Booked in quickly, honest evaluation, efficient service, good price. Will definitely use again. "
Upgrade of some electrical components for Code
Ihor was really great, he came to check out what was required and then completed a full quote for me via email. He came when he said he would - which was on a Saturday so was nice for us he could accommodate that. "
Electrics in our kitchen
Ihor work was simply great! He completed the job on time and charged as the agreed rate. He was very professional and careful. The kitchen was left very clean. Totally recommended!!! "
EICR certification for 2 bed flat in BR4
A first class job. Ihor was knowledgeable, punctual and polite and als0 handled the restorative work thrown up from the inspection. Would definitely recommend. "
Replace old extractor fan in shower room
Good communication, job well done and reasonable price. Happy customer. Our Advantages
Reasons You Should Call Us
Electrician is your single source for a complete range of high-quality electrical services, including design/build, engineering and maintenance.
1
24/7 Emergency Services
24/7 emergency electrician you can trust.