How To Become An Electrician
Introduction
If you have ever watched your electrician at work and wondered how he became qualified enough to handle electrical appliances so skillfully, or you have thought of becoming an electrician yourself and are clueless about how to get into this trade? Then you have come to the right place. The demand for electricians in the UK is growing.
Based on a labor market study conducted by The Electrotechnical Skills Partnership (TESP), it is estimated that between 12,500 and 15,000 electricians will be required over the next five years to accommodate UK forecasted growth. With this, it becomes apparent that becoming an electrician could be a very prudent decision, as the demand for electricians will only continue to grow. Today, we will help you cover all you need to know to become a qualified electrician.
Becoming a Fully Qualified Electrician
Becoming a fully qualified electrician in the UK takes a lot of training, but the rewards can be pretty fulfilling. An electrician's primary duties are installing, maintaining, and testing electrical wiring, appliances, and fixtures in every type of setting, from domestic to commercial. An electrician's day-to-day tasks at work vary, and they can include small and simple tasks to larger, more complicated ones.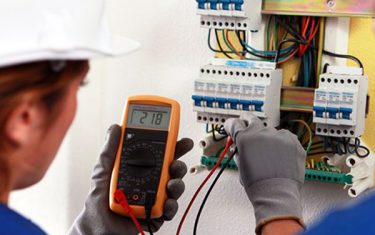 For example, you may assess plans and plan wiring layouts or install fuse boxes and circuit breakers. Unless you have the necessary training, electrical work is challenging and can be dangerous. Therefore, training and experience are essential in this field, which is why having extensive training as an electrician is so important.
The following three options are available when it comes to obtaining the necessary skills and qualifications to become an electrician.
Start an apprenticeship (with NVQ or SVQ qualification)
Study a diploma or technical certificate
Take a domestic installer course
With all the above noted, you should sort out a few things before you begin to train as an electrician. Carrying out extensive personal research is necessary. Being an electrician might seem easy from the outside until you start the actual training. It is better to discuss with experienced electricians to know what the field truly entails, as this will help you decide if you will enjoy this line of work eventually.
Can I Become Just a Domestic Electrician?
A domestic electrician is an electrician who has completed training to handle all aspects of wiring and connection in a residential environment. The work of a domestic electrician involves the installation of wiring, lighting, and other appliances throughout the house. In addition, they can replace or fix fuse boxes, install switches and sockets, and add charging points.
When choosing a career as an electrician, your research should reveal the available options, including the domestic electrician, who can also be called a residential electrician. You can train as an electrician and primarily deal with residential and domestic electrical faults. It is also vital to note that compared to commercial electricians, becoming a domestic electrician requires fewer qualifications; subsequently, you will be shown what qualifies you to be a domestic, commercial, and industrial electrician.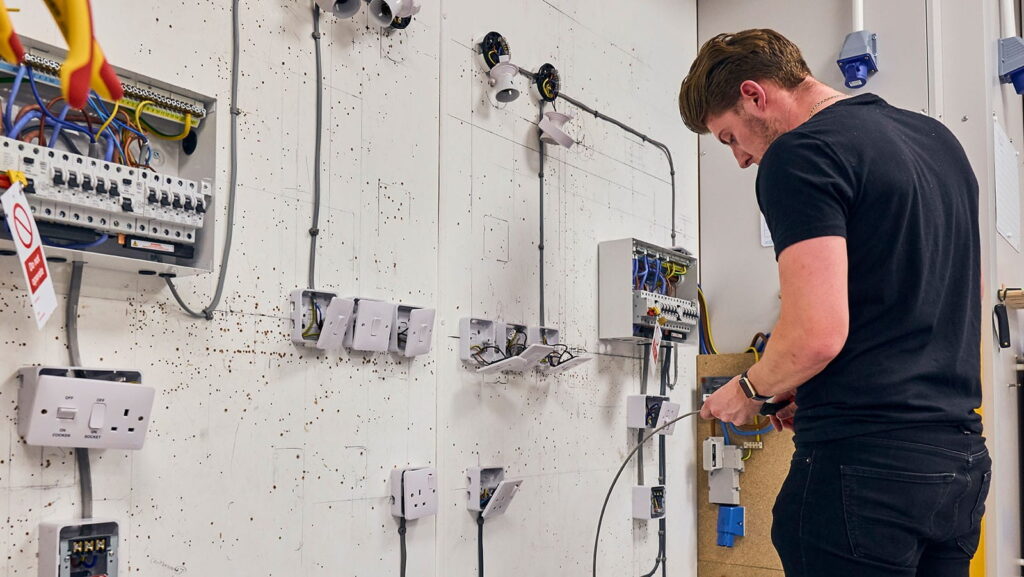 Commercial electricians also earn more than domestic electricians because of their qualifications and exposure to more dangerous situations. You can choose to become just a domestic electrician if you want to. You just need to make sure it aligns with your interests and desires.
Residential Electrician
A residential electrician is a domestic electrician; he is an electrician who is trained and tutored to handle electrical works, wiring, and connections in a residential environment. Electrical systems and components are installed, maintained, inspected, repaired, and replaced by a residential electrician who is a skilled and licensed professional. The residential electrician may also supervise and plan projects and lead teams of workers based on his or her level of experience and supervisory duties. Residential electricians have the following responsibilities and duties.
Installation of new wiring and electrical systems
Analyzing technical drawings and blueprints
Maintenance of electrical systems
Make sure that electric components are functioning correctly and safely
Finding and repairing faults in the wiring and electrical systems
Replacement of damaged or worn-out components
Residential electricians are usually employed by contractors or construction firms, or self-employed. A self-employed person has the freedom to choose what type of job he will take, while an employee of a company has fewer options. Electrical contractors travel daily to job sites, which can be new construction or existing buildings, and may work alone or in teams as needed.
An electrician specializing in residential work must be licensed by the state, complete several hours of classroom training, and gain years of experience. The most common way to become a licensed residential electrician is to enroll in and complete an apprenticeship program.
Job Outlook for Residential Electricians
Overall, residential electricians can expect a good job market in the coming years. New homes require qualified electricians to install wiring and lighting while existing buildings will always need upgrades, repairs, and maintenance.
Commercial Electrician
A commercial electrician installs, designs, and maintains electrical systems for commercial buildings. Typically, you must undergo extensive training through apprenticeship and become licensed. Earning an associate degree is a common first step in the education of commercial electricians.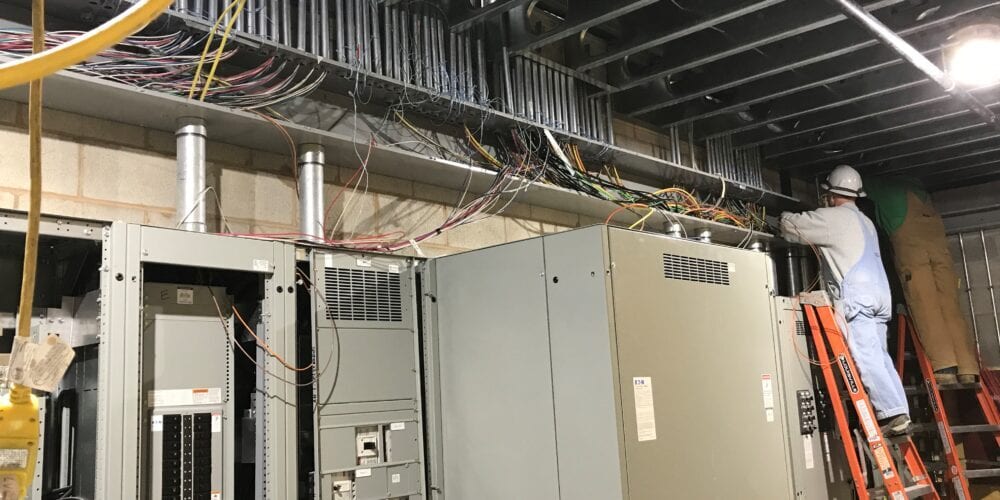 A commercial electrician may design electrical systems as well as the conduits of tubing or pipe often required by local electrical codes. Alternatively, the electrician may work from blueprints given to him by the general contractor. Finally, the electrician installs the conduits and runs the electrical wiring, regardless of whether the designs the system or works from blueprints.
Working Environment
For commercial electricians, the typical working environment is indoors. However, a lot of time is spent on the road going from one job to another. Their job demands a great deal of movement, standing, and crouching, just like that of residential electricians. There is also a risk of shocks, fires, and injuries from tools and equipment associated with this work. Following safety regulations and using safety gear can help reduce these risks.
Getting certified as a commercial electrician requires classroom study and on-the-job training and experience. These required hours can be provided by an apprenticeship program. While some programs will give training on both residential and commercial work, others will keep the two separate.
Industrial Electrician
An industrial electrician is an adept professional who can service and maintain electrical equipment and meet the physical requirements of the job. In contrast to residential and commercial electricians, industrial electricians work in industrial settings, including plants, factories, and manufacturing facilities. Like other electricians, they must obtain training, obtain a license, and adhere to safety regulations.
Industrial electricians typically perform the following tasks: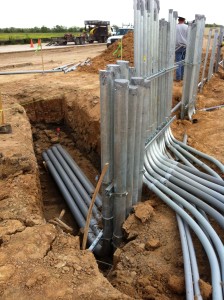 Installing wiring and electrical equipment for new plants
Reading and following plans, blueprints, and technical drawings
Improving existing industrial electrical systems
Finding and rectifying problems in electrical systems
Maintenance of electrical equipment and wiring
Working with large tools and equipment
Industrial Working Environment
Industrial electricians perform many of the same duties as other electricians. Their working environment, however, may be quite different. Large, noisy, and busy plants and factories are where these professionals work. Electricians must work with or around equipment and machinery in these buildings.
Licensing and Training Requirements
The educational and training requirements for an industrial electrician are the same as those for other types of electricians. A union or non-union apprenticeship program is the easiest way to meet all the requirements. In general, apprenticeships require four to five years of training, but the program includes paid work as well.